Power / Electrical Requirements
110V is needed to supply power to the PourMyBeer System. For every 4 Taps, you will need 1 Power Outlet (Isolated 15A or greater recommended, additional outlets may be required depending on your build-out). The image on the right contains the Power Transformer (these power up to 4 taps each). It can rest on a flat surface or can be mounted onto the back of the cabinet with 4 screws. We recommend installing the Transformers in a position that in the event of a beer leak it is protected from any moisture.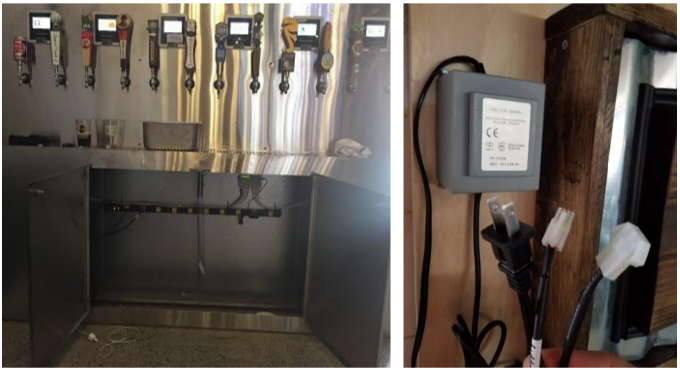 Also included with your system are Uninterrupted Power Supply (UPS) unit(s). By having a UPS in place, your Beer Wall can operate as a stand-alone system and will be protected from power surges. These Units have 5 surge and battery protected outlets.

We can power up to 20 Taps with 1 UPS unit.

Primary Voltage: 115V 50/60Hz
Maximum Amp Draw: 1 Amp
Primary Power Wire: 18AWG (1 Pair)
Secondary Voltage: 24VAC
Rating: 112VA
Secondary Power Wire: 18AWG (1 Pair)


(We allow 4 tap valves per "Magic Box" Power Transformer)


Voltage: 24VAC
Load: 14VA (Hold) / 23VA (Inrush)
Power Wire: 18AWG (1 Pair)


(Each valve will be paired with a flowmeter, there will be (1) valve and (1) flowmeter per product faucet)


Power Wire: 22AWG (2 Pair)


(Note: Only the Black, Blue, and Red wires are used for our systems.)

Smart FOB

(Optional Equipment)


Power Wire: 22AWG (1 Pair)

Remote Screen Card Reader

(Optional Equipment)


Data Wire: USB Cable